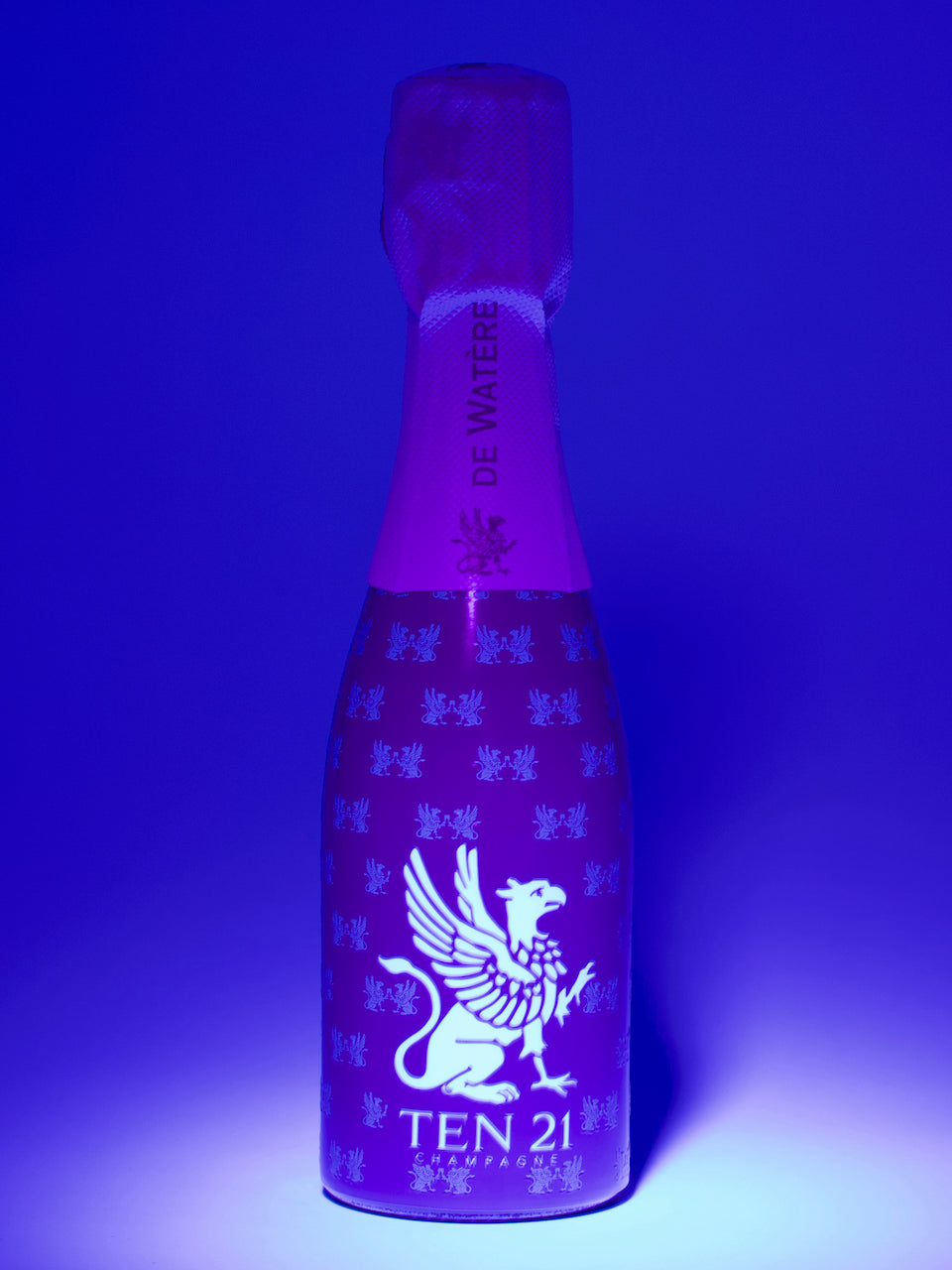 Ten21 - The Game-Changing Champagne
Meet Ten21 - De Watère's ten-year anniversary Champagne which is a game-changer not only for us but for champagne as a whole.
With its summery, optimistic character and a price of only 59€, Ten21 appeals to a broader audience.
TEN21 - the Game-Changing Champagne
For our 10-year anniversary, we proudly introduces TEN21 - the next step of our internationally acclaimed luxury champagne brand. With its approachable, fun and balanced character, this Premier Cru composition of 50% Chardonnay and 50% Pinot Noir, appeals to Champagne novices and seasoned connoisseurs alike.
With TEN21, we live up to our reputation as the modern rebel in the Champagne world once more: the bottles of this Cuvée not only come in full-body UV-activated sleeves, but are the first Champagne ever to feature Augmented Reality. Hereby, we confirms our reputation as the innovative pioneer of luxury Champagne brands.
Meet Theodore the Gryphon thanks to Augmented Reality
Thanks to cutting-edge innovative Augmented Reality technology, De Watère's logo and guardian of values within the brand, Theodore the Gryphon, comes alive for the first time and enters into direct contact with customers. He acts as surprised about coming to life as are the customers, since TEN21 is the first Champagne ever to offer such Augmented Reality features. "We see AR as one of the most interesting channels to enter into a whole new kind of dialogue with our customers in the medium term. The possibilities are endless! They're only being limited by current technology", says Konorza, founder and Président of De Watère.
To meet Theodore, one simply scans the QR code featured on every bottle, downloads the free App and scans the bottle with it.
Hidden UV-activated Designs
TEN21 presents itself in the signature white-and-blue colours of De Watère under normal light. Switch on UV / black light to reveal the hidden design and light up the entire bottle: pairs of 3D-printed Gryphons who toast each other with tiny champagne glasses to celebrate De Watère's 10th anniversary. Especially in the dark this effect of the full-bottle UV-activated sleeves is breathtaking. Switching between UV-mode - the bottle seemingly glowing from within - and daylight mode with the elegant blue and white colour scheme, is truly addictive.
Under normal light, one can still feel the little Gryphons as they are 3D printed.
Summer with a Pinch of Romance
The Premier Cru blend of 50% Chardonnay and 50% Pinot Noir combined with our signature respect for nature approach, tastes light, fun and optimistic. The smooth yet abundant effervescence combined with the enticing smell of apricot and yellow fruits perfectly introduces the balanced but lively character of TEN21. Tasting of a fun summer with a pinch of romance, perfectly supported by the string of the most elegant pearls, this latest creation proudly continues De Watère's tradition of putting out truly grand Champagnes. 
The Result of 10 Years of Experience
"I brought everything I have learned over a decade in the luxury industry to this cuvée and its design", says a proud and excited Konorza. "We truly have created something totally new. On the one hand, we succeeded in expressing the high quality of De Watère in a whole new taste aspect. On the other hand, the design of the bottles is ahead of the curve: TEN21 is the first Champagne ever featuring Augmented Reality."
For TEN21, the same original production methods are being employed for which De Watère is known to discover the pure, true character of Champagne: in the Premier Cru vineyard, one vainly looks for machines and tractors. Instead, one finds horses and work by hand to avoid harmful emissions allowing the vines to naturally develop to their full potential. The resulting Champagnes rank among the top players in the industry. This is experienced with every sip, as numerous international Gold and Grand Gold medals confirm.
Not only in terms of taste but also in terms of price TEN21 appeals to a broader audience. The prices for TEN21 start from 23€ for the 20cl Petite and from 59€ for the 75cl bottle, which is roughly half of De Watère's other Cuvées.
TEN21 is being distributed directly via www.dewatere.com (free shipping over 100€ order value) and via select retailers.